Music plays a great part in Irish culture and many pubs will play live traditional music throughout the whole country. Traditional Irish music usually includes instruments such as the fiddle, piano and guitar combined with local instruments like Irish bouzoukis, Uilleann pipes and the Celtic harp, which is the official symbol of Ireland. Apart from the harp, most Irish traditional instruments would be accordions, concertinas, the bodhrán and the Uilleann pipes. Traditional music sessions in Ireland are popular events, renowned for lasting into the early hours of the morning and in good atmosphere. And let's forget, what use is good music unless you can dance to it! The music we consider to be at the core of what is traditional music – jigs, reels and other dance music.
In Ireland traditional music was once used for domestic purposes such as to entertain at home, or with a gathering of neighbours. This low-scale use of the music still occurs, but in the second half of the last century the music increasingly moved out of the domestic circle into more public view. In post-war cities in Britton let Irish musicians who met socially in pubs to play their music there. This was the genesis of the "session"- a form of music-making that has since become firmly established as the norm wherever Irish music is played. In many pubs the musicians play with the permission of the owner of the business, in others they are formally engaged and paid to play, usually in the hope of encouraging tourists to patronise the premises.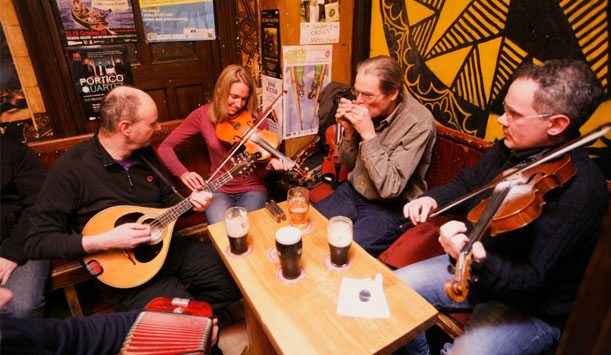 Knowing your seisúns from your céilís
First things first, learn the lingo. The two places you're most likely to experience trad music in Ireland are a seisún and a céilí – and there's a difference between the two.
A trad music seisún (pronounced: seh-shoon) can best be described as an informal gathering of musicians. Often, it'll kick off with just a guitar. But before long you've got a whole group of fiddlers, flutists, banjos and bodhrán (drum) or Lambeg drum players belting out the tunes. You can expect a bit of dancing at seisúns, too. People clap along to the beat as dancer's twirl and skip around the place. Don't be afraid to join in, no one minds if you don't know the steps as long your having the craic. Before you know it, you'll be a jigging pro.
You'll find a seisún in nearly every town and city on the island, especially on weekends, usually in a pub. A céilí (pronounced: kay-lee) is all about dancing to this music; and there's a huge emphasis on joining in with the locals. Every corner of Ireland has its own favourite dances, from jigs to set dances.