Located just 8km from Goleen, as Ireland's most south-westerly point, it is home to a signal station that was built to save lives off the rocky shoreline. It was completed in 1910 and later became the home of Ireland's very first radio beacon in 1931. Here, inside the House, you'll find a visitor centre that contains a café and gift shop. It also has a navigation aids simulator, displays the geology of the region, Once your tour of the visitor centre is complete, head outside and follow the path down the famous 99 steps and over the arched bridge that looks down upon the gorge.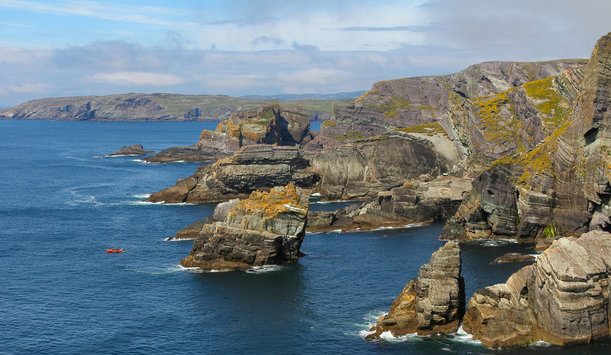 Important Information
The visitor centre: opening hours: Everyday 11amp to 4pm (November to March); 10 am to 6pm (June to August); 10.30amp to 5pm (September, October)
Price: Adult: €7.50 / Senior and Students €6 / Child under 14 €4.50 / Child under 5 Free
Distance to Dublin Airport: 5h20 – 388 km
Distance to Shannon Airport: 3h39 – 229km
Restaurants around 5 kilometers:
Mizen Café, Mizenhead Signal Station, Cloghane, Goleen
Beach Bar Restaurant, Cannawee, Barleycove
is the most westerly of Cork's inhabited islands. Dursey is separated from the mainland by a narrow sound known for its strong tides. It is accessed by Ireland's only cable car, which runs about 250m above the sea. It can carry six peoples at a time on the 15 minutes journey.
Without any shops, pubs or restaurants, this peaceful little island offers day-trippers and escape from the hustle and bustle of modern living. There are three small villages and forms part of the Beara Way Waking Trail. Dursey is an excellent place for viewing wildlife, as a variety of birds can be seen here. We can also have spotted dolphins and whales in the waters surrounding the island.
Important Information
Monday to Sunday: 1st March-31st May: 9:30am to 7:30pm
1st June-31st August: 9:30am to 9:30pm
1st September-31st October: 9:30am to 7:30pm
1st November-28th February: 9:30am to 4:30pm
Cable Car Fares:
Adult: 10€ / Child: 5€ / Payment by cash only
Distance to Dublin Airport: 409km and 5h14min
Distance to Shannon Airport:  233km and 3h46min
Restaurants around 5 kilometers
O'Neill's Bar&Restaurant, Cloan County Cork
Perhaps the best-known historical attraction in Kinsale, is on the road just beyond Summercove. It is open all year, and regular guided tours are available. Charles Fort is one of the finest surviving examples of a 17th Century star-shaped fort located right on the edge of Kinsale it truly is a work of art and well worth a visit.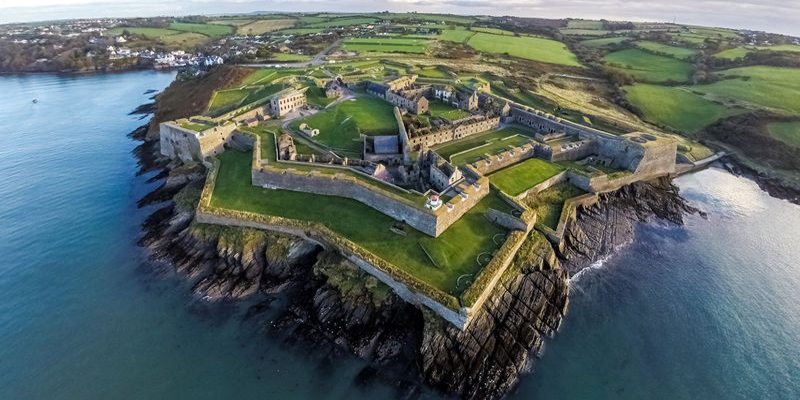 Important Information
Opening Hours: Mid-March to October: 10.00 to 18.00
November to Mid-March: 10.00 to 17.00
Average of visit: 1 hour
Price: Adult €5 / Senior €4 / Child and Student €3
Exhibition centre, toilets
Guide book: English, Irish, French, German, Spanish, Dutch, Italian and Polish
Distance from Dublin Airport: 3h08 – 293 km
Distance from Shannon Airport: 2h27 – 161 km
Travel by bus: 
Local link bus service for Kinsale to Charles Fort daily at 12.00, 14.45, 16.45
Restaurants around 5 kilometers:
The Bulamn Bar & Toddies Restaurant, Summercove, Kinsale
Man Friday, Scilly, Kinsale
The Cathedral Church of St Colman, usually known as Cobh Cathedral, is a Roman Catholic cathedral in Cobh, Ireland. It is the cathedral church of the Diocese of Cloyne. It overlooks Cork harbour from a prominent position. Construction began in 1867 and was not completed until over half a century later due to increases in costs and revisions of the original plans.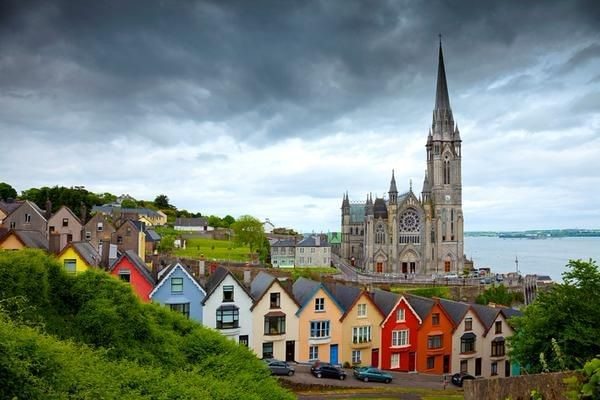 Important Information
Saturday: 6.00pm
Sunday: 10.00am, 12.00noon, 7.00pm
Holy Day: 10.00am 7.30pm
Weekday Masses: 8.00am (except on Saturday), 10.00am
Summertime: Cathedral closes at 6.00 pm, evening Masses and removals excepted
Distance to Dublin Airport: 2h57 – 273km
Distance to Shannon Airport: 1h59 – 145km
Restaurants around 5 kilometers
Harbour Browns Steakhouse, 11 West Beach- 0.1 miles from Cobh Cathedral
Trade Winds, 16 Roger Casement Square – 0.1 miles from Cobh Cathedral
Gilbert's Bistro,  Nassau House 11 Pearse Square – 0.1 miles from Cobh Cathedral
Titanic Bar and Grill, Scotts Buildings 20 Roger Casement Square – 0.1 miles from Cobh Cathedral
Grand Italie Pizzeria & Restaurant, 4 Roger Casement Square Cobh, Co Cork – 0.1 miles from Cobh Cathedral