Suet pastry
375 g of self-rising flour
1 teaspoon of salt
130 g lard cut into small pieces
200 to 230 ml of cold water
Steak and kidney pudding
A knob of butter for greasing the cooking pan and parchment paper
1 tablespoon olive oil
130 g of beef kidneys cut into small pieces
600 g of braised beef cut into 2 cm pieces
1 finely chopped onion
5 to 6 mushrooms cleaned and cut into small cubes
1 tablespoon flour
1 teaspoon of thyme
1 bay leaf
2 tablespoons Worcestershire sauce
1 tablespoon tomato paste
130 ml of dark beer (stout) or red wine
130 ml brown beef stock or 130 ml water + 1 tablespoon Marmite
Salt pepper
Preparation 30 minutes + 30 minutes of rest | Cooking time 4h20
Suet Pastry
Pour the flour and salt into a bowl.
Add lard pieces and pour 100 ml cold water.
Mix gently with your hands and gently add the remaining cold water if needed.
Gather the mixture into a ball. Wrap it with cling film.
Store in the refrigerator for 30 minutes.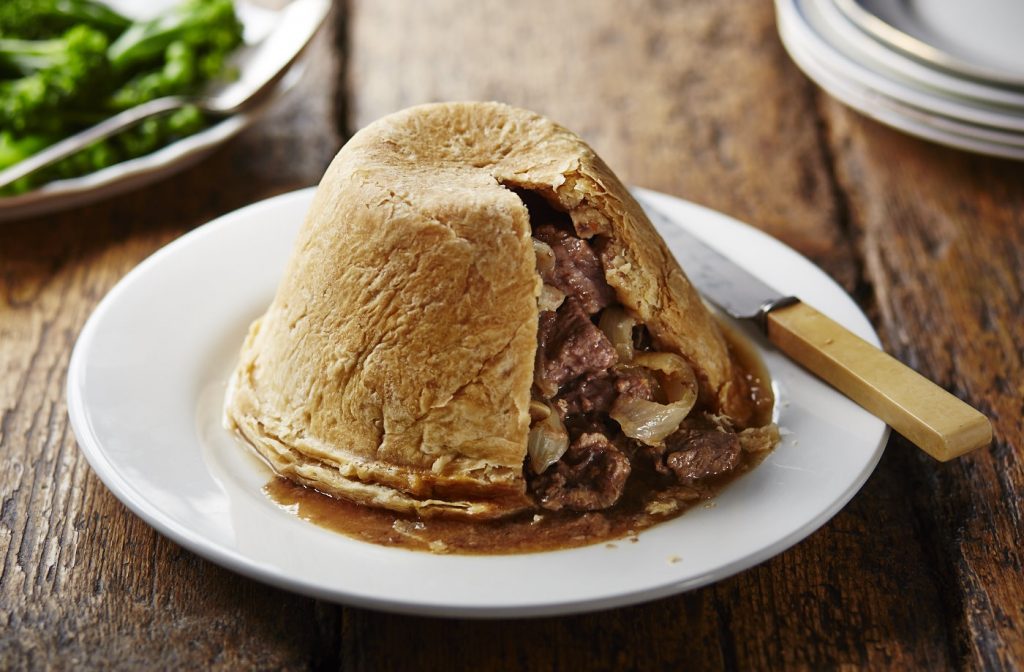 Steak and kidney pudding
In a large skillet or casserole, heat half of the oil.
Brown the pieces of kidneys.
Remove from the pan and set aside on a plate.
Pour the remaining oil into the casserole and fry the pieces of beef with 1 teaspoon of salt.
Once the beef is golden, add the onions.
Reduce heat and sauté for 10 minutes.
Add the flour, thyme, bay leaf, Worcestershire sauce, tomato paste and ½ teaspoon of black pepper.
Mix with a wooden spoon for cook for 5 more minutes.
Transfer the pieces of kidney in the casserole with the mushrooms.
Pour brown beer/ red wine or beef stock or a mix of water with Marmite.
Check the seasoning and allow the mixture to cool in a large container at room temperature.
Pudding assembly
Butter the pie pann
Spread the dough in a large circle on a thickness of 2.5 cm.
Cut a quarter of the dough. Reserve it to cover the pudding.
Pour the beef mixture into the bowl.
Place the remaining pastry on top.
Brush the edges with water to seal the dough.
Butter a large sheet of parchment paper. Lay it on the top.
Add a large aluminium foil.
Cook it in bain-marie
Continue cooking for 4 hours, checking the water level every 30 minutes.
Remove the two baking sheets.
Serve Steak and kidney pie with vegetables and some homemade fries or mashed potatoes.