Ingredients:
750 g white fish fillets
2 large leeks chopped
zest of 2 lemons
1/4 teaspoon of nutmeg
8 peppercorns
2 bay leaves
6 sprigs of parsley
625 ml of milk
30 g butter
1 clove of crushed garlic
1/2 cup chopped chives
2 tablespoons sifted flour
1 kg of mashed potatoes
1 pinch of ground pepper
1 pinch of paprika (optional)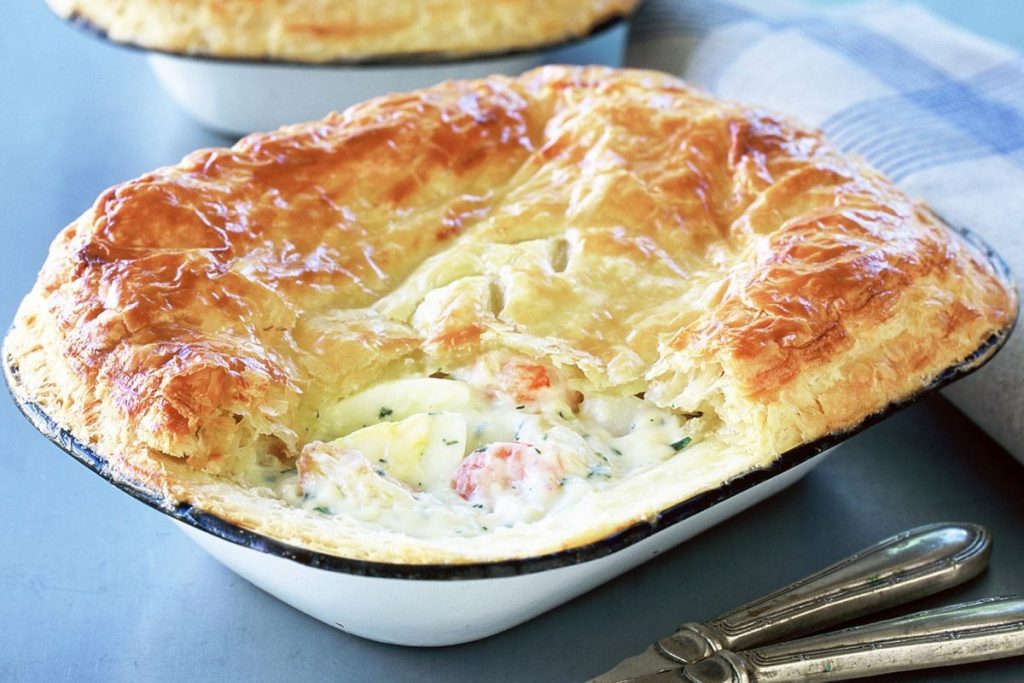 Preparation : 1hour | Cooking time : 40 minutes
Preheat your oven to 200 ° C.
In a saucepan, put your fish fillets and ​​leek (reserve 2 tbs leek for the sauce).
Add lemon zest, nutmeg, peppercorns, bay leaf and parsley.
Pour the milk and simmer uncovered for about 15 minutes. With a skimmer, remove the fish fillets and vegetables and filter the resulting broth through a colander to remove the peppercorns and bay leaves.
Reserve the fish stock for sauce. Break the fish by hand or with a fork.
For the sauce, sprinkle the 2 tablespoons on the remaining leek in the pan, mix well and add 375 ml reserved fish stock. If you do not have enough, fill in with cream or milk. Bring the mixture to a boil and stir for a minute until the sauce is thick.
Add the fish and the small pieces of leeks from the stock to the sauce.
Make the mash potatoes.
Pour the fish and sauce into a buttered baking dish. Cover with leek purée.
Sprinkle with paprika.
Put in the oven for 20 minutes or until it has a nice golden top.