Cooking time: 55 min
300g pastry
100g smoked bacon
200g beef finely chopped
3 turnips
1 leek
2 mashed potatoes
2 onions
25 cl of fat-free beef broth
1 egg for gilding
Salt and pepper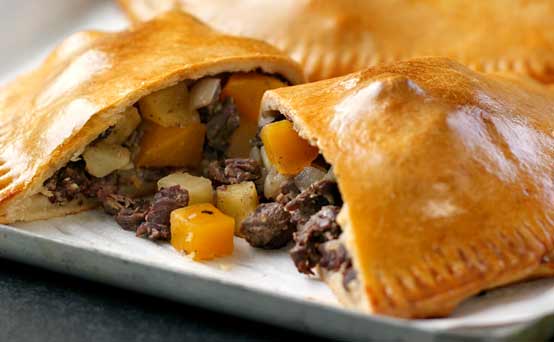 Preheat the oven 180°C
Peel turnips and potatoes, then cut into small cubes.
Clean the leek and slice it.
Cook in a saucepan of boiling salted water for 10 minutes.
Brown the bacon in a dry pan over high heat. Remove them leaving the fat.
Put the onions in the pan and let them colour for a few moments. Add the meat and garnish over high heat for 2 to 3 minutes, stirring constantly. Add the well-drained vegetables, beef broth, Worcestershire sauce, salt and pepper, then reduce everything until only a little juice remains.
Spread out the dough and cut out 6 circles of 18 cm diameter. Spread the filling in the centre of the circles then close the circle in half. Roll the edges on themselves and then cut a knife with the top of the pockets to let the steam out. Brush them with a little beaten egg.
Put the pockets on a baking sheet lined with parchment paper and bake for 20 minutes then lower the oven to 120°C and continue cooking 20 minutes.